4PCS CHRISTMAS STAINLESS STEEL COFFEE SPOONS TEA SPOONS DESSERT SNACKS SPOONS DDK1 EN ESPAÑA
Features: Stainless Steel Construction,Easy to Clean Professional kids spoon Applicable for Children and Lovers to use.The special gift at home. Sugar Coffee Tea Ice Cream Desserts Tasting Spoons.? Specification: and high quality. Material: Stainless Steel Color: Silver Type: Christmas Style Spoons Sets Size: 13*2.3cm/5.12*0.91inch Package: 4pcs/lot Note: Please allow 0.5-2cm differs due to manual measurement. Due to the different display and different light,the picture may not reflect the actual color of the item. Thanks for your understanding


Anuncios relacionados
COFFEE KETTLE STAINLESS STEEL COFFEE POT POUR OVER COFFEE KETTLE LONG MOUTH SLENDER POT COFFEE DRIP POT KETTLE TEAPOT SILVER 1.2L STOVETOP KETTLES (COLOR : SILVER, SIZE : 1200ML) (SILVER 9.5X14.5CM)
This drip kettle features a long, comfortable handle that's far enough away from the base to avoid overheating, and the lid is airtight so nothing will spill over!
Design: There are air holes on the lid to prevent scald from opening the lid, fully molding process, shockproof rounded corners, safe for use on gas, electric, and induction stovetops.
High Quality: This coffee kettle is made from premium thickened food grade stainless steel, sturdy and durable, leak-free and rust-free, easy clean-up.
Perfect Size: Capacity of 1.2 litre / 40 oz, will help you prepare a decent coffee service, the anti-scald handle is safe to hold, making the water flow slow and precise for the most flavor of coffee or tea.
A truly indulgent and unique piece - perfect as a gift for you, or somebody else!
[Leer más]

Ver precios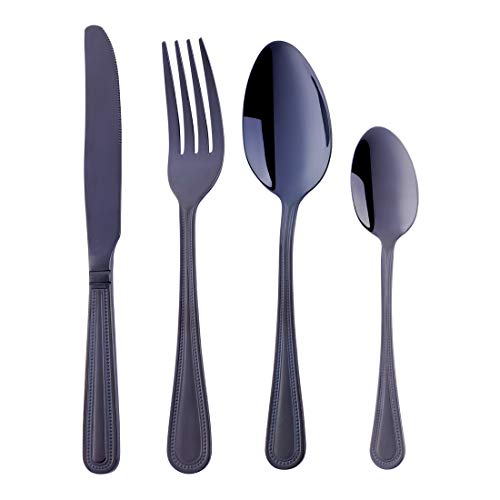 BUYER STAR BLACK CUTLERY SET, 24PCS STAINLESS STEEL DINNER TABLE KNIVES FORKS DESSERT SPOONS TEASPOONS, CLASSIC BEAD FLATWARE SET FOR 6, MIRROR-POLISHED BASIC DINNERWARE
Service for 6 people. Bead Cutlery Set 24 Pieces.
High quality 18/0 stainless steel. Mirror polishing.
Classic basic tableware for all dinner occasions.
Please note that the color of each batch may vary slightly.
Feel free to contact us if you have any question. Thank you!
[Leer más]

Ver precios
IVQAPP SPOUT COFFEE POT STAINLESS STEEL COFFEE KETTLE STOVETOP POUR OVER KETTLE DRIP COFFEE KETTLE LONG MOUTH COFFEE POT TEAPOT 450ML POUR OVER KETTLE (COLOR : BRONZE, SIZE : 450ML) (BRONZE 450ML)
This kettle of the coffee,you'll just be drinking better coffee and looking like a pro while you're making it.
High Quality: This drip coffee kettle is made from premium surgical-grade stainless steel, food grade, sturdy and durable, with a double layer metal base to keep your kettle leak-free and rust-free.
A truly indulgent and unique piece - perfect as a gift for you, or somebody else!
Quick & Easy Enjoyment: 450ml capacity and corrosion resistant, 304 stainless steel construction with beehive shaped design for fast, even heating for use with most gas, electric and induction stoves.
Unique Handle: The stay cool handle and slip-resistant grip ensure that the kettle does not slip when you are pouring water, a timeless design with modern styling and beautiful stainless steel mirror finish.
[Leer más]

Ver precios
NAICASY CAPSULES FLITER STAINLESS STEEL COFFEE REFILLABLE REUSABLE COMPATIBLE FRAGRANT REPLACEMENT KIT FOR MACHINE
3. The only refillable pod of this fliter equipped with a support ring for the capsule and a tamper, which make filling the capsule accurate, easy and clean
4.Coffee capsules fliter is safe to use, made of food grade 304 stainless steel, BPA-free and lead-free
1. This capsules fliter can be reused, save money and save the earth
5. The version of the reusable capsules fliter is like the original Dolce Gusto coffee pods, making espresso coffee
2. Stainless steel capsules fliter brew your own flavor and fresh coffee to make your life unique
[Leer más]

Ver precios
IVQAPP COFFEE KETTLE KITCHEN STAINLESS STEEL COFFEE KETTLE STOVETOP HAND-BREWED POUR OVER KETTLE COFFEE MAKER LONG MOUTH COFFEE DRIP POT TEAPOT 1 LITER 1000ML STOVETOP KETTLES (BLACK 600ML)
This drip kettle features a long, comfortable handle that's far enough away from the base to avoid overheating, and the lid is airtight so nothing will spill over!
High Quality: This coffee kettle is made of high quality stainless steel material, anti-rust and corrosion-resistant, durable to use and easy to clean.
Perfect Size: 1000ml capacity, reasonable size, with exquisite appearance, easy to carry and store, and it won't take much space in your home.
A truly indulgent and unique piece - perfect as a gift for you, or somebody else!
Precision Pouring: It has a long gooseneck spout, perfect for precisely pouring hot water on manual pour-over coffee brewing systems.
[Leer más]

Ver precios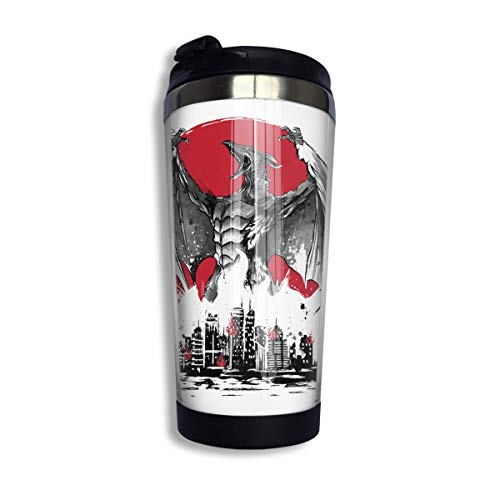 YUANMEIJU TAZA DE CAFÉ DE VIAJE JANPAN FIRE PTERANODON ATTACK CUSTOM TRAVEL MUG STAINLESS STEEL COFFEE TUMBLER DOUBLE WALL VACUUM INSULATED COFFEE MUG FOR CHRISTMAS,BIRTHDAY,HOME,OFFICE
Descripción del material: Material de acero inoxidable.Flexibilidad, resistencia a altas temperaturas, aislamiento térmico.
Capacidad: 400 ML, Tamaño de la taza: Altura: 16,8 cm (6,6 ''), ancho: 8,3 cm (3,3 '')
Pared doble aislada: el vaso de viaje cuenta con paredes dobles con aislamiento al vacío, mantiene las bebidas calientes y frías por más tiempo para una experiencia de bebida más agradable.
Ligero y con ajuste de portavasos, almohadilla inferior antideslizante, delgada y fácil de transportar.Ideal para automóvil, oficina, hogar, campamento, escuela, etc.
Regalo perfecto: este puede no ser un regalo caro, pero no hay duda de que será el regalo más íntimo.
[Leer más]

Ver precios
STAINLESS STEEL COMMERCIAL TRASH CAN HEAVY DUTY WASTE DISPOSAL TRASHCAN FOR HOME OFFICE RESTAURANT RESTROOM (SILVER 1 42X82CM)
GREAT FOR COMMERCIAL SPACES: Large capacity and an open lid make this an ideal choice for small businesses such as restaurants and coffee shops.
OPEN-TOP DESIGN: Fitting large, bulky items with ease, waste receptacle features an open-top design with a wide opening for quick, touch-free disposal of trash on the go in high-traffic areas.
EASY MAINTENANCE: Providing a neat and professional appearance, Indoor Trash Can is outfitted with a lift-off lid that conceals the trash bags. Additionally, this lid makes it simple to remove and replace bags when needed.
CLEAN, MODERN STYLE: Featuring both heavy-duty material and aesthetic appeal, this sleek, stainless steel trash can is furnished in a brushed silver finish to add a clean, modern look that will brighten up any interior space.
WIDELY APPLICABLE: Ideal garbage can indoor or outdoor use such as hotel lobbies, restaurants, banquet roomspatios, meeting spaces, cafés, recreational and picnic areas, corporate and college campuses, boardwalks, tourist attractions, and other high traffic outdoor and indoor locations.
[Leer más]

Ver precios
MASTERCLASS STAINLESS STEEL SOUP SPOONS, 17.5 CM (7") (SET OF 2)
Juego de 2 cucharas soperas en un diseño atemporal y sofisticado. El toque final perfecto para una mesa
Hecho de acero inoxidable de alta calidad, duradero con un elegante acabado pulido de espejo
Apto para lavavajillas y resistente a las manchas
Parte de una amplia gama de cubiertos de acero inoxidable de MasterClass
Cinco años de garantía
Incluye 2 cucharas soperas
La sopa siempre sabe mejor cuando se disfruta con una cuchara de sopa
Con este elegante juego de cucharas soperas, hechas de acero inoxidable de alta calidad con un acabado pulido de espejo
[Leer más]

Ver precios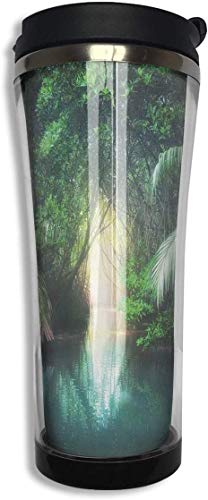 YUANMEIJU JUNGLE TROPICAL LAKE MANGROVE RAINFOREST STAINLESS STEEL COFFEE TUMBLER TRAVEL CUP WITH LID VACUUM INSULATED COFFEE MUG
Diseño doble, carcasa de ABS natural de grado alimenticio, interior de acero inoxidable.
Llene su vaso con café, té dulce, cerveza, agua helada, batidos, limonada, refrescos y más.
Taza de viaje aislada de acero inoxidable, sin fugas, para el hogar, la oficina, al aire libre, acampar y viajar.
Compacto, hermético, fácil de transportar, perfecto para su uso, compacto de apariencia moderna.
Regalo perfecto para cumpleaños, Navidad, graduación o cualquier ocasión especial donde se necesite un regalo.
[Leer más]

Ver precios
STAINLESS STEEL OIL COLANDER SPOON, FINE MESH STAINLESS STEEL COLANDER SPOON, FOAM SKIMMER OIL FILTER SPOON, LONG HANDLE STAINLESS STEEL COLANDER FILTER, FINE MESH SIEVE FOR COOKING TOOL (MEDIUM)
1. FOOD GRADE 304 STAINLESS STEEL: Even the hottest temperatures making it perfect for deep frying and cooking using boiling liquids. Strong and durable, will not rust or corrode and will last long. Easy to clean, dishwasher-safe.
2. PRACTICAL SIZE: Different diameter of the skimmer's bowl, meet your different needs, from small to large diameter are 3.2 Inch, 3.7 Inch, 4.5 Inch. Long handles are 10.2 Inch, 10.6 Inch, 13 Inch. The depth of the spoon is 0.71 inches. (Please find out more detail in product photos)
3. MULTI-FUNCTION: Fine mesh strainer can separate varied materials. Perfect for separation of the floating foam, fat, grease, filtering quinoa, miso and grains and scooping up the bits of breadcrumbs from oil and vegetables from water. Ideal for everyday cooking.
4. ERGONOMIC HANDLE: Long round and hollow handle can protect your hands from hot grease and oils, non-slip, easy to grip, heat-resistant.
5. Easy TO STORE: Convenient built-in hole on handle allows you to hang the spoon after use.
[Leer más]

Ver precios
Ver producto
Ver producto
Ver producto
Ver producto