MONSTER HUNTER STORIES EN ESPAÑA
Monster Hunter stories para Nintendo 3DS versión japonesa, esta en muy buen estado. nintendo switch, ps5, iphone, coche


Anuncios relacionados
Prepare to embark on an RPG adventure unlike anything the Monster Hunter series has ever known
In Monster Hunter Stories, become a Rider and bond with monsters to raise their potential and unleash powerful combos
Players can fly, swim and crash into new areas of the map, discover eggs to collect and hatch, and participate in turn-based battles with a party of multiple monsters
Compatible with 3DS, 3DS XL, 2DS, New 3DS and New 3DS consoles
[Leer más]

Ver precios
MONSTER HUNTER STORIES 2 CARDS WITH 2 JOYSTICK CAPS, MH STORIES 2: WINGS OF RUIN CARDS INCLUDING ENA/RAZEWING RATHA/TSUKINO, NFC CARDS FOR SWITCH/SWITCH LITE/WII U/NEW 3DS PACK OF 12
Card contents: 12 x non-repeated cards can be used indefinitely, including limited costume cards x 3 (only the first use can get ENA, Razewing Ratha and Tsukino costumes, you can receive items from the second time), MHR special sticker set card x 3, game item card x 6. 12 cards can unlock special multi-layer armour and participate in daily lottery activities, can give you cool exclusive equipment.
12 + 2 cooperation package: 12 pieces Monster Hunter Stories2 NFC card with 2 thumb grips in MHR style, packed in a portable transparent mini crystal box. 12 non-repeated cards including ENA, Razewing Ratha, Tsukino etc. The two thumb grips have a slightly raised MHR symbol that can increase friction and make the thumb grip non-slip and sweat-proof while adding a complete gaming atmosphere to your switch.
Easy to use and unlimited use: dialogue with the NPC in the "Village Grocery Store" to open the "cards" option, press "L" button and pull card into the NFC sensor area. The Monster Hunter 2 NFC card can be used indefinitely on multiple game consoles. You can share this Monster Hunter Rise NFC card with your friends to increase emotional communication and have fun.
Multiple compatibility: Monster Hunter Rise NFC card is compatible with Switch / Switch Lite / Wii U and New 3DS systems. Of course, these Monster Hunter Story 2 Wings of Destruction NFC cards are region-free and you can use them in games in the USA, Europe and Japan.
Buy without risk: Monster Hunter Story 2 Wings of Ruin NFC cards is 1.25 x 0.85 x 0.05 inches. It is made of plastic and has an NFC tag in the card. The product features have a certain data loss rate, but which is very low, about 0.02% (two out of ten thousand). If the NFC card of the Monster Hunter card is invalid, please contact us. We will send you new products.
[Leer más]

Ver precios
3PCS AMIIBO TARJETAS DE JUEGO PARA MONSTER HUNTER STORIES 2 WINGS OF RUIN, ENA RAZEWING RATHA TSUKINO NFC AMIIBO CARD PARA SWITCH/SWITCH LITE/NEW 3DS/WII U
Alta Compatibilidad: Funciona con las consolas Nintendo Switch, Switch Lite, Wii U y New 3DS. Todas las tarjetas amiibo pueden utilizarse en Monster Hunter Rise y Monster Hunter Stories 2: Wings of Ruin.
Atención: Tarjetas NFC de terceros, no figuras Amiibo originales. La tarjeta NFC Amiibo tiene una bonita impresión de imágenes, es resistente al agua y lleva incorporado un chip de alta calidad. Los datos internos y las funciones de la tarjeta de juego son los mismos que los de Amiibo.
Las tarjetas Amiibo son un regalo especial para los fans de Monster Hunter Rise, que te ayudarán a divertirte más en el juego. Personajes fijos como ENA, Razewing Ratha, Tsukino.
Modo de Empleo: En el juego, todos los personajes para obtener el equipo de apariencia correspondiente, y también se puede dibujar una lotería todos los días para obtener diversos accesorios. Un Amiibo sólo se sortea una vez al día, 3 sorteos al día, hasta 10 amiibo se pueden utilizar un día.
Fácil de Llevar: Viene con un tamaño pequeño como tarjeta regular, tarjeta de juego portátil podría llevar a cualquier lugar. Desbloquea armaduras de capas especiales, entra en la lotería diaria para conseguir una variedad de artículos útiles.
[Leer más]

Ver precios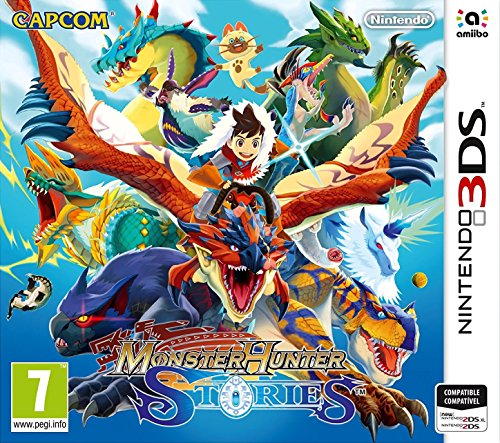 Tras un largo periodo de paz, la Plaga Negra ha vuelto; sigue los pasos del legendario Rider y sométete al rito vinculante, demuestra tu valía y destierra la plaga para siempre
Adéntrate en un mundo nuevo lleno de lugares que explorar: picos nevados, grandes ciudades, junglas tropicales o desiertos abrasadores
Cría más de 60 criaturas diferentes, mejora sus características y concédeles nuevas habilidades
Monta en distintos Monsties para alcanzar lugares a los que antes no podías llegar; aprovecha sus habilidades para nadar a lo largo de anchos lagos, caminar por lava o surcar los cielos
Aprovecha los modos de juego local o de combate en línea y reta a los Riders cercanos; personaliza tus duelos con diversas reglas de combate para nivelar la batalla o llevarla al máximo extremo
[Leer más]

Ver precios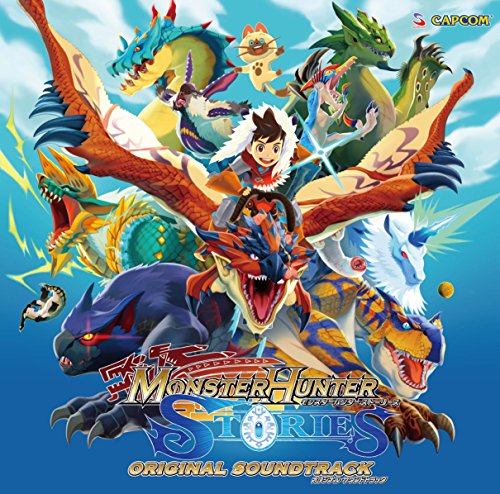 Ver precios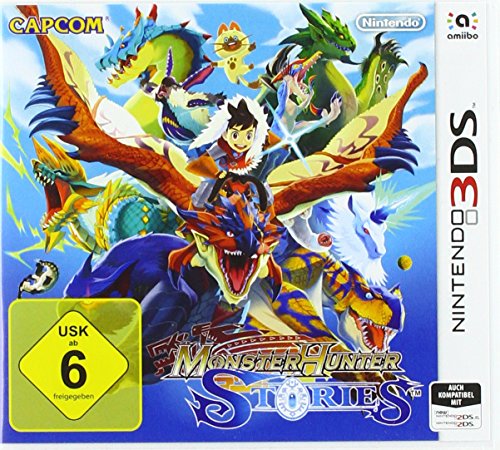 MONSTER HUNTER STORIES [IMPORTACIÓN FRANCESA]
Jaquette en allemand, jouable en français
[Leer más]

Ver precios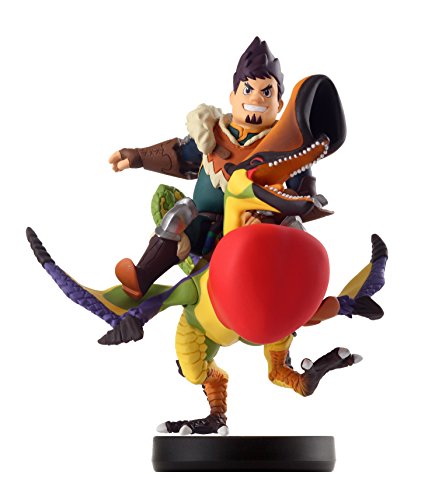 MONSTER HUNTER STORIES CAPCOM AMIIBO QURUPECO & DAN IMPORTACIÓN JAPONESA

Ver precios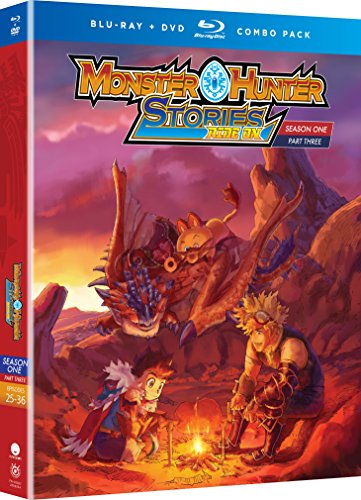 MONSTER HUNTER STORIES RIDE ON: SSN ONE PART THREE [EDIZIONE: STATI UNITI] [ITALIA] [BLU-RAY]

Ver precios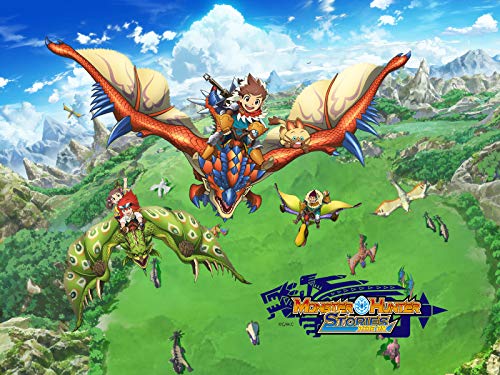 MONSTER HUNTER STORIES RIDE ON

Ver precios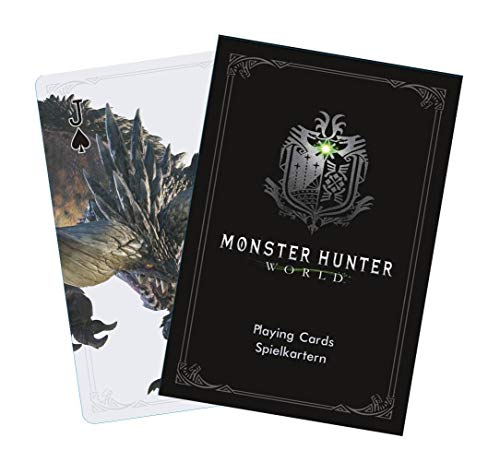 MONSTER HUNTER WORLD MHW - JUEGO DE CARTAS DE MONSTER HUNTER WORLD-54
54 cartas de juego para juegos de cartas como póquer, skat o Mau Mau.
Producto oficial de Monster Hunter World.
Con los monstruos más populares de Monster Hunter World como motivos de tarjetas.
Regalo ideal para cualquier fan de Monster Hunter
Rathalos, borde de fertilización, Deviljho – todos ellos contigo.
[Leer más]

Ver precios
Ver producto
Ver producto
Ver producto
Ver producto